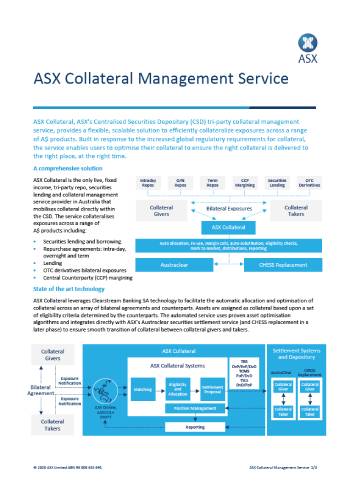 ASX Collateral Management Service
ASX Collateral is the only live, fixed income, tri-party repo, securities lending and collateral management service provider in Australia that mobilises collateral directly within ASX's Centralised Securities Depository (CSD).
BNP Paribas
Central Banking Awards
Specialised lending initiative
BNP Paribas developed its role as a leading securities lending provider for central
banks by widening the services it offers official institutions in 2019, while also
offering new approaches to meet environmental, social and governance (ESG)
criteria.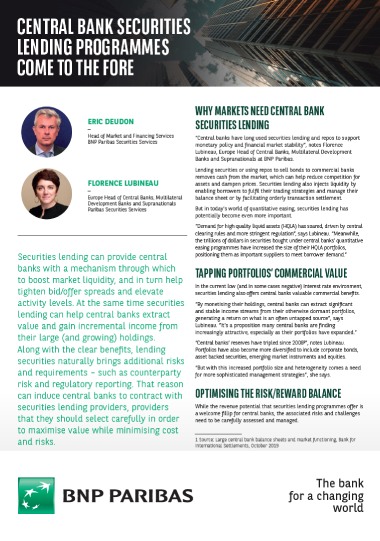 BNP Paribas
Central Bank Securities
Lending Programmes Come To The Fore
Securities lending can provide central banks with a mechanism through which to boost market liquidity, and in turn, help tighten bid/offer spreads and elevate activity levels.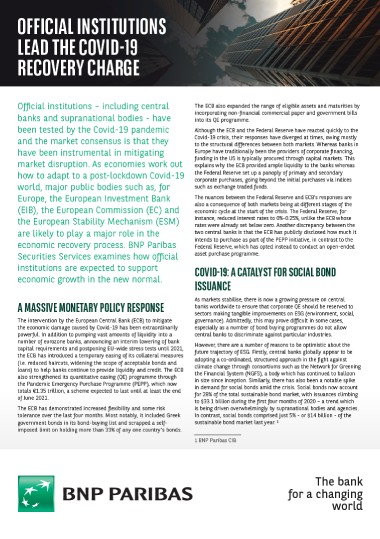 BNP Paribas
Official Institutions
Lead the COVID-19 Recovery Charge
Official institutions – including central banks and supranational bodies - have been tested by the Covid-19 pandemic and the market consensus is that they have been instrumental in mitigating market disruption.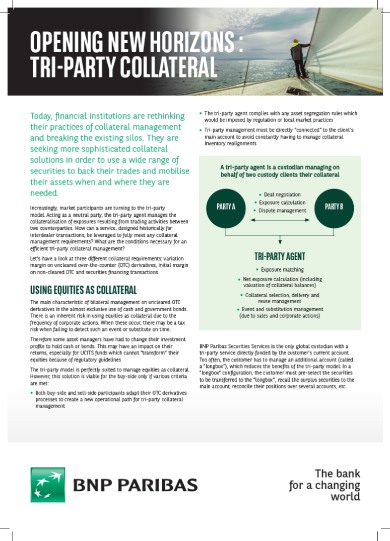 BNP Paribas
Opening New Horizons:
Tri-Party Collateral
Today, financial institutions are rethinking their practices of collateral management and breaking the existing silos. They are seeking more sophisticated collateral solutions in order to use a wide range of securities to back their trades and mobilise their assets when and where they are needed.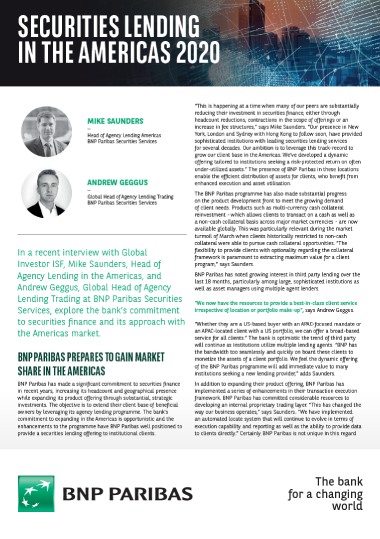 BNP Paribas
Securities Lending in The Americas 2020
In a recent interview with Global Investor ISF, Mike Saunders, Head of Agency Lending in the Americas, and Andrew Geggus, Global Head of Agency Lending Trading at BNP Paribas Securities Services, explore the bank's commitment to securities finance and its approach with the Americas market.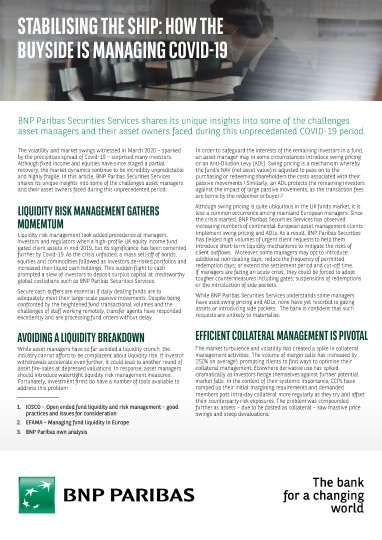 BNP Paribas
Stabilising The Ship:
How The Buyside is Managing COVID-19
BNP Paribas Securities Services shares its unique insights into some of the challenges asset managers and their asset owners faced during this unprecedented COVID-19 period.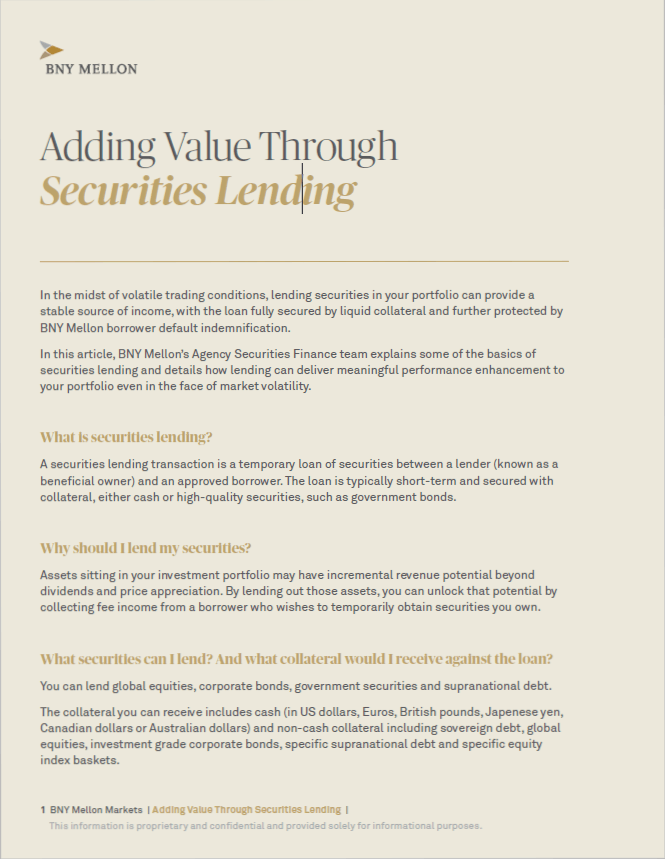 BNY
Adding Value Through Securities Lending
In the midst of volatile trading conditions, lending securities in your portfolio can provide a stable source of income, with the loan fully secured by liquid collateral and potentially further protected by borrower default indemnification.
In this article, BNY Mellon's Agency Securities Finance team explain some of the basics of securities lending and detail how lending can deliver meaningful performance enhancement to your portfolio, even in the face of market volatility.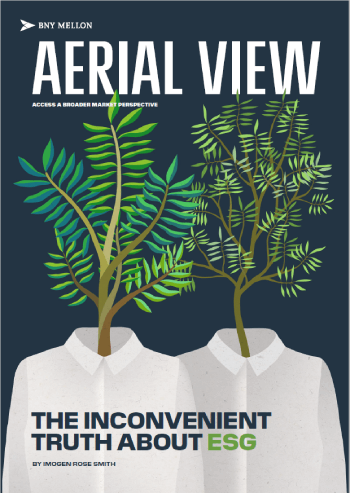 BNY
Aerial View
The Inconvenient Truth About ESG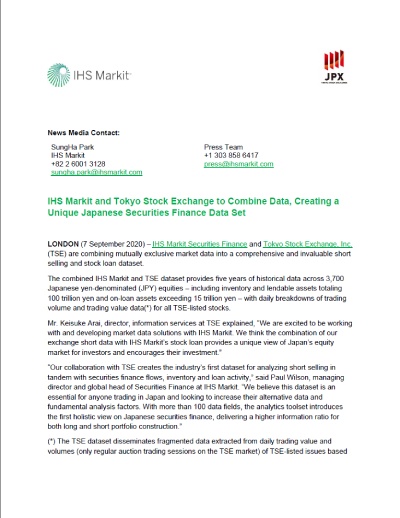 IHS Markit
IHS Markit and Tokyo Stock Exchange to Combine Data, Creating a Unique Japanese Securities Finance Data Set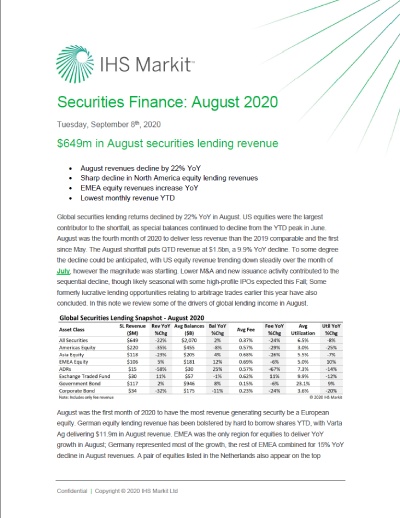 IHS Markit
Securities Finance: August 2020